Proud to be new Canadians, Peace by Chocolate set up shop in Nova Scotia after their factory was destroyed by the war in Syria.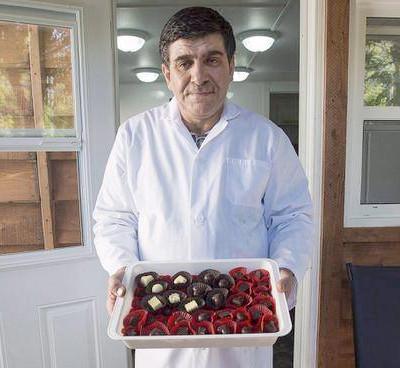 Founder Story
For more than 20 years we shipped our specialty treats all over the Middle East to countries like Yemen, Jordan and Lebanon.
Like much of our homeland, the Hadhad chocolate factory was destroyed in a bombing that forced our family to leave everything behind and flee to Lebanon.
For three years we found our home in a refugee camp with little opportunity or hope. Our lives had been forever altered and we dreamed of returning to the lives we love. When our family was invited into Canada and became full Canadian citizens our dreams came true. With the support of our new community Antigonish and the people of Nova Scotia we have rebuilt our chocolate company and are once again doing the work we love.
Green Story
Our appetite for excellence runs through every chocolate. We passionately combine a blend of Syrian fillings and ingredients including local fresh organic honey, 100% pure juices, nuts, fruits and spices creating a little slice of heaven with every sweet.